Overfill Prevention
Addressing the most significant risk of your storage tank
One of the most significant risks at facilities that store hazardous liquids is an overfill event. The severity of an overfill event may be high due to health and safety issues or environmental damages – followed by fines and lawsuits. The worst-case scenario may be a vapor cloud explosion causing devastation and offending the company. In joint response to recent overfill events, the industry developed the API/ANSI Standard 2350 – a totally new requirement related to safety management systems.
Prevent overfills with an independent and diverse system
As a result of recent incidents and in order to ensure safe functionality, systematic overhauls to overfill prevention systems have taken place. In order to meet the highest safety standards, independent and diverse Overfill Prevention Systems are used.
Automated overfill prevention system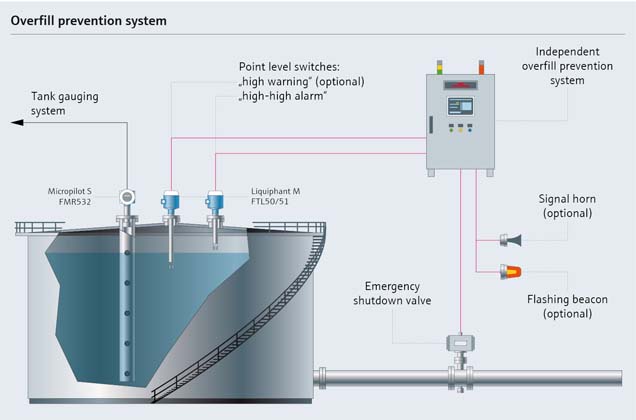 Optimize your business by using overfill prevention systems
In addition to meeting latest industry standards and mitigating risks, an automated overfill prevention system is also beneficial in terms of reduced maintenance expenses, increased tank capacity and optimized insurance contracts.
Benefits from implementing an overfill prevention system
High level of confidence and reliability thanks to a fully independent and diverse solution for overfill prevention in accordance to API 2350.

Integrated, automated proof testing shortens the time for commissioning and maintenance.

Seamless integration of the overfill prevention system into monitoring systems for remote monitoring via standard interfaces such as Modbus TCP.

Reduced engineering and commissioning time and lower maintenance costs.
©Endress+Hauser

Overfill prevention system portfolio

©Endress+Hauser

Overfill prevention for tank gauging

©Endress+Hauser

Overfill prevention process
Contact
Middle East Support Centre
7WB-2100, Dubai Airport Free Zone
P.O. Box 293828
Dubai
United Arab Emirates
Send email
Downloads
Related offering
Products
Solutions